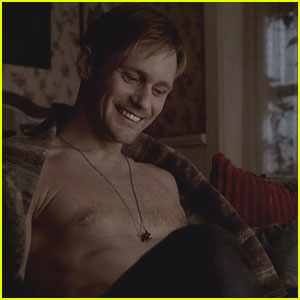 Alexander Skarsgard goes shirtless in True Blood's most recent episode.
| by Just | 2011 |
The 34-year-old actor bared his toned torso in a scene with Anna Paquin during the third episode of the show's fourth season.
Alex recently shared that although Eric and Sookie have a romance brewing, he has the support of Stephen Moyer and there's no rivalry there!
"I think it's great for the show," Stephen told the L.A. Times. "I went up to him at the beginning of the season, and I just went, 'Look, I want you to do your job to the absolute best of your ability and I will not be around when you have to do that stuff. I don't want you to feel like you're looking over your shoulder and there's me at the monitor going, "Get your hands off her!" 'It's absolutely not how we roll. Me and him are mates."
Love this post?
Read also