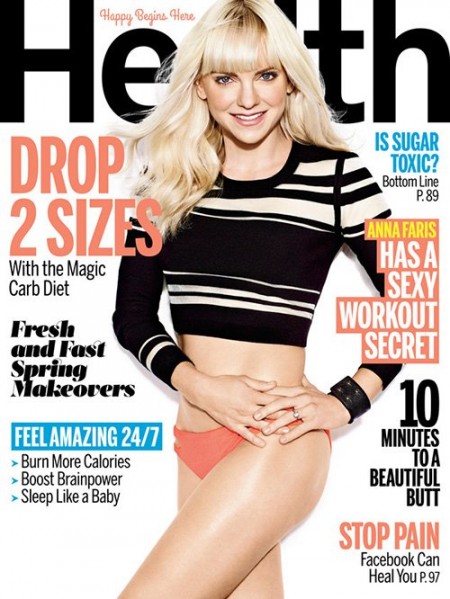 She's a fun-loving, down-to-earth movie star mommy and Anna Faris is about as far away from "diva" status as they come.
| by Ear | 2015 |
The "House Bunny" babe is featured on the cover of the April 2015 issue of Health magazine and it sounds like she's in a great place these days.
"I'm all surface. I make sure my roots are good— although right now they're not. I don't want to spend my free time doing that stuff. I like to unwind with some wine and movies, and spend time with Chris and Jack. I would love to be in a place where somebody comes to my house and just, like, spray-tans me and does my roots. But I just don't have the patience for it."
Faris continues, "I mostly feel scared just going out without makeup on. But at the same time, I don't want it to force a lifestyle change. Some people I work with wish that I would start dressing nicer. They're like, 'Can you please not wear sweatpants everywhere you go?'"
Thankfully, Anna's husband Chris Pratt is all the encouragement she needs- "He makes me feel really beautiful even when I'm feeling disgusting. I'll be in boxer shorts and a grubby T-shirt with greasy hair, and he'll still be like, 'Whoa, honey. Whoaaa.'"
Love this post?
Read also