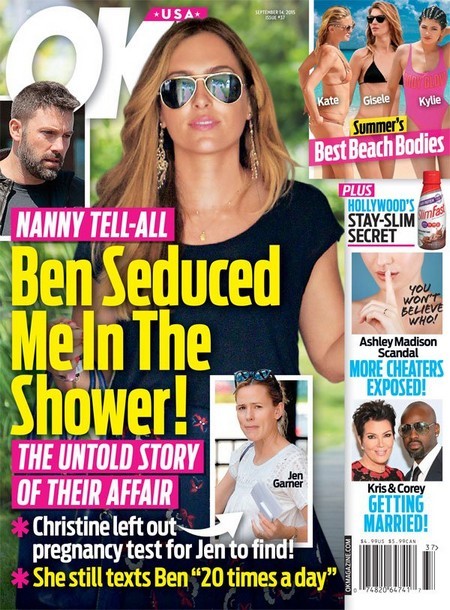 Ben Affleck and Jennifer Garner's former nanny Christine Ouzounian is featured on the front cover of the latest issue of "OK!" magazine.
| by Roberta Ferguson – SHY Magazine | 2015 |
Inside of this issue, the tabloid claims that the actor seduced the former couple's ex-nanny while showering. As each day goes on, more and more information is trickled out into the media about his shenanigans with the nanny.
A source close to the situation has revealed that the nanny is thinking about writing a tell-all book. The spy revealed, "It's exactly what Ben and Jen have been fearing. She's going to air all their dirty laundry!"
Ben isn't actually interested in Christine any longer, but doesn't want her to go around blabbing about the details of their union to anyone. And like a good sport, Jennifer is trying to help Ben with a united front in the media. The source added, "They want Christine to go away for good. With everything she could say about them, she's like a ticking time bomb."
Love this post?
Read also