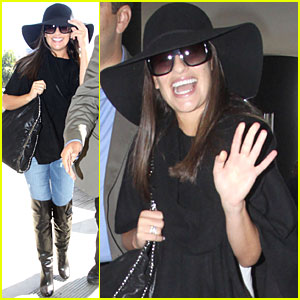 Lea Michele flashes her pearly whites at LAX airport on Thursday (September 29) in Los Angeles.
| by Just| 2011 |
The 25-year-old actress wore a large black rimmed hat and a pair of thigh high boots for her flight.
PHOTOS: Check out the latest pics of Lea Michele
"Good morning everyone! Packing my suitcase and getting ready to take off! Can you guess where I'm off to….?" Lea teased on Twitter.
A few hours later, Lea revealed to her fans who guessed many different destinations, "Oui oui! Paris here I come!"
Love this post?
Read also