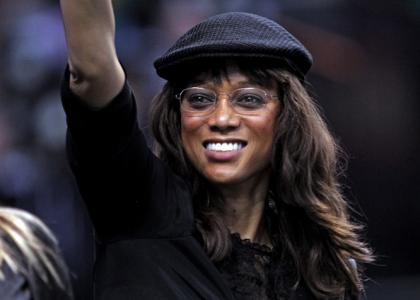 Tyra Banks is admired by many around the nation, including young girls.
| by eurweb | 2011 |
So the super model and talk show host is setting a good example and has decided to go back to school. And she's taking this task seriously.
She's attending Harvard Business School. She admits it ain't easy.
"I think they make it hard on purpose," Banks told the massive crowd at her "Modelland" book signing in New York of her strict education. "Once you get done reading one assignment, you get another."
In her youth, she once fancied attending Loyola Marymount in Los Angeles but her career took off by the age of 17.
"The light bulb went off to write when I was 16 years old. And I got accepted to many colleges, and I got sidetracked when I got discovered to be a model," Banks tells me. "A nice distraction. Then I came back to producing with 'America's Next Top Model' and now I'm coming back to the writing side."
Tyra has demonstrated however that a woman can be a millionaire and successful without a college degree, but she says education is important and she still wants to the reward of a college degree.
Love this post?
Read also