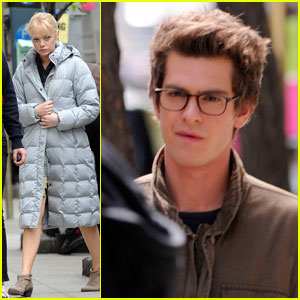 Andrew Garfield wears a pair of glasses while walking around the set of his new movie, The Amazing Spider-Man, on Saturday (April 30) in New York City.
| by Just | 2011 |

The 27-year-old actor plays the lead character in the upcoming action flick, opposite Emma Stone, who was also spotted leaving her trailer and getting to work.
Kelsey Chow recently shared she was "absolutely blown away" working with Andrew in the movie.
"He's insanely talented and a really wonderful person … He's really bringing his own to the character, which I think definitely puts a different spin on it," she told E! Online.
"I play a girl who hits on Peter Parker," she added. "I'm a lucky girl."