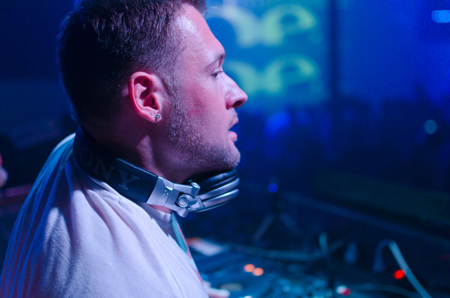 When I first got word that I'd be interviewing the infamous DJ Chris Styles of DC, I couldn't help but jump for joy inside of my own skin.
| by Eden Hansom | 2011 |
Reminiscent thoughts of high school cascaded through my mind as his music painted the backdrop to my days as a rambunctious 17 year old in the DMV area. When it comes to the sites and attractions in this region, you can't possibly leave out the incomparable musical styling of Mr. Styles himself.
Nervous yet excited, when DJ Chris Styles walked up to greet me, whatever feelings I had were completely flushed away. He has this way about him that makes you believe that you've been friends for years. As soon as we exchanged pleasantries, we were down to business. His stories were both amazing and kept me on my toes every second we were at the table. An entrepreneur since high school, the love of music has always flowed vigorously through his blood. What started off dabbling in his father's music collection, progressed to selling Go-Go tapes in high school. Shortly after, that transpired into taking on DJing by college and has now manifested himself into one of THE top DJs in D.C., M.D., and V.A.
We discussed his experience interning at WPGC in 1999, to working with the honorable Alize of WKYS, to getting his start in 2004 at Hot 99.5 and Fur Nightclub. This guy has been rocking all over the place with the signs of not letting up.
You would think with running your own DJ Company that that would be enough, but it's not even close. Add DJing at Hot 99.5, mixing and serving as an on-air personality with Sirius XM's The Heat, and various other gigs. In the midst of our conversation I asked, "If you weren't a DJ what would've been your career choice?" The answer was shocking yet profound: A middle school Algebra teacher. Even while playing "What if," he wants to serve other people. He'll definitely be a great father.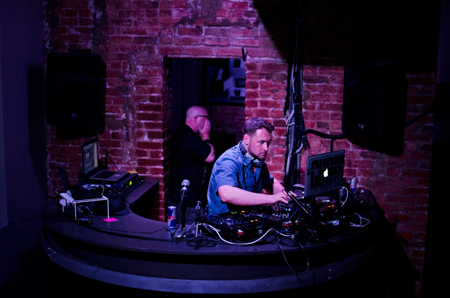 Through our conversation, Styles also took my idea of what made a good DJ and made it great. I thought I had a personal connection with the DC-based DJ because I used to listen to him back in the day, but I soon realized he had that effect on us all. It's funny calling him the "Baptismal DJ" but that's what he does. He baptizes the kids in the D.M.V area who aren't yet allowed into the club with his epic mixes. So when they're old enough, the first place they want to go is to a club where DJ Chris Styles is playing. Not speaking as a fan but as true lover of music. I always say when you stop learning you not only become a disservice to yourself but to the others around you, and this man continues to grow every time I listen to him. People love him because of his personable attributes. What other DJ do you know that brings you live broadcast so you can be right there with him even if you are rocking out in your car? What DJ do you know can keep you on your toes all night long and still have time to step into the crowd to feel the vibe with you? DJ Chris Styles knows exactly when to break the people off with new records. I've been to an event with him and left with blisters happily on my feet because I just couldn't leave the dance floor.
He stays consistent and continues to reinvent himself coming out bigger and better every time. He's come a long way as hard working student at American University to that DJ who keeps on serving us with the latest. The guy literally has 11 different mixes of Ke$ha's song "Blow"!!!, who does that? Chris Styles does! "I want people to know me as a hard-working DJ and say, 'This dude never stopped.'"
And he can't stop and won't stop. To find out more about DJ Chris Styles check him out on any one of these outlets:
Sirius XM The Heat – M-F 6pm-9pm
Friday Night Friday: Fri 10p Est. – Sat 1am Est. (DJ Chris Styles on the set)
HOT 99.5-Live club broadcast every Friday & Saturday from 10pm-2am
http://soundcloud.com/djchrisstyles
http://www.youtube.com/djchrisstyles?http://www.twitter.com/djchrisstyles
http://www.djchrisstyles.com
http://www.chrisstylesdjs.com