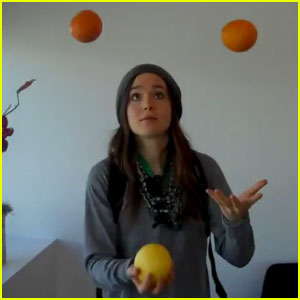 Check out this video of Ellen Page juggling two oranges and a grapefruit!
| by Just | 2011

The 24-year-old actress takes a bow after a quick 30-second impromptu performance where she showed off her hand-eye coordination skills.
Ellen recently chatted about her latest flick, Super, in which she plays Rainn Wilson's superhero sidekick Boltie.
"I love playing roles that are physical, absolutely love. Whether it's just that kind of basic level of physicality or whether it's stunts. I just love it," she said.
"And shooting something that is a very low budget, short shoot I really enjoy too, because it's just like, completely on your toes, go, go, go … I also really like, kind of the bare bones, just fly by the seat of your pants. It's really fun," she added.