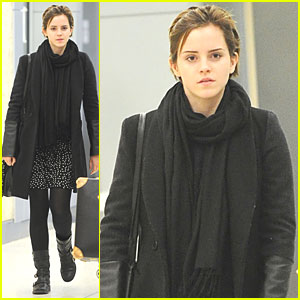 Emma Watson arrives at JFK Airport on Monday (September 26) in New York City.
| by Just | 2011 |
The 21-year-old English actress wore a cute polka dotted skirt for her flight.
Emma recently told Britain's Hello! magazine that even she has had a beauty faux pas or two.
"Wearing too much makeup has been my biggest beauty faux pas," Emma dished. "I truly, truly believe that beauty is something that comes from within. You can only really look beautiful if you feel beautiful on the inside. It shows through your face, the way you move and the way you hold yourself."