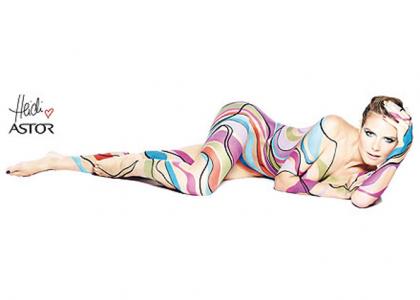 As the face of Astor Cosmetics, Heidi Klum recently showed off her perfect figure in the new spread for the brand.
| by Celebuzz | 2012 |
The supermodel bared it all, well almost, as she was covered up in bright neon colors designed by makeup artist Joanne Gair for the celebration of the brand's 60th anniversary.
"This was probably close to the 13th time I've been body painted by her," the "Project Runway" host said in her blog. "You have to be good at being patient! I don't mind sitting still for such a long time, though; it's a living piece of art that I'm so honored to be a part of."
According to Miss Klum, the elaborate body paint took the artist more than 12 hours to complete, but she said, "I had another fun photo shoot for Astor celebrating color!"
Love this post?
Read also