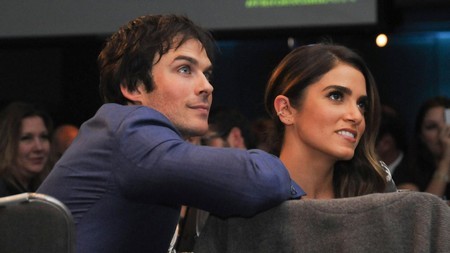 "Vampire Diaries" actor Ian Somerhalder says that he's more than ready to be a father, but in the meantime, he enjoys practicing making babies with his wife Nikki Reed.
| by Roberta Ferguson – SHY Magazine | 2015 |
When asked by a reporter if he is ready to be a father, he said, "Oh, hell yes! Absolutely. You know, it's all about practice. It's not practice makes perfect, it's perfect practice. It's the most incredible thing to be happy and secure in something."
He went on to say, "It's a pretty crazy time and place to bring a child into this turbulent and insane world, but I really can't wait to do it and really just love it."
The happy couple already has nine pets together and looks forward to adopting a pig once they get settled on the west coast. Nikki revealed, "We talk about pigs all the time. I'm sure in the near future when we move our life back to the west coast; we will probably end up with a couple rescue pigs."
Ian added, "We're going to probably rescue a pig that needs rescuing."
Love this post?
Read also