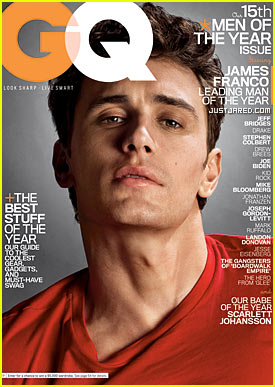 James Franco is red hot on the December 2010 cover of GQ Magazine, on stands everywhere November 23rd.
| by Just | 2010 |
Fhe 32-year-old actor is crowned Leading Man while the other Men of the Year covers include Drake (Breakout Star), Jeff Bridges (Icon), and Stephen Colbert (Patriot). Scarlett Johansson also has her own cover as Babe of the Year.
In the M.O.T.Y. issue, James talks about taking a class with Michael Warner, one of the founders of queer theory. "Basically it's a wide-reaching approach to whatever—literature, life, politics. It is on the most basic level an anti-normative approach to all of these subjects," James explains. "One approach to things might be to classify everything as 'This is straight, this is gay; this is Republican, this is Democrat,' whatever. The queer approach is to complicate all of that and see the way all of these different things are intermingled and connected."
WHAT'S YOUR TAKE on the queer theory? Believe in it?