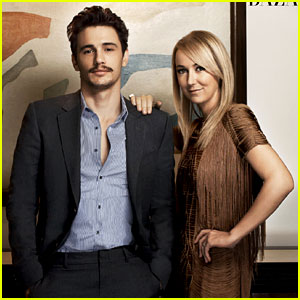 James Franco and Gucci designer Frida Giannini pose in front of a Fernand Léger painting in Giannini's living room in this shot for Harper's Bazaar's March 2011 issue.
| by Just | 2011|
In his interview with Frida, the 32-year-old actor compared film to fashion as they are works of art that need to evolve over time.
"In film, you think of the director as a kind of artist," James said. "But if you're directing a movie, especially if it's very expensive, you have something of a responsibility to make the money back for that studio. You're working with a similar model. There's always been a tension between a director, who wants his own vision, and the studio, which might think, 'Well, that vision might not appeal to everyone. We want more of a general appeal.'"
James has officially joined the Twitter-verse! You can follow @JamesFranco for all his updates.