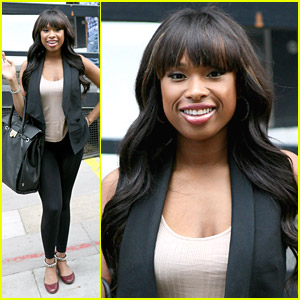 Jennifer Hudson waves to photographers outside the ITV studios on Thursday (April 21) in London, England.
| by Just | 2011 |

The 29-year-old American Idol alum thinks the show this year has transitioned well and loves Steven Tyler, but added, "Of course Simon [Cowell] is missed. I mean, Simon is like 75% of the judging panel. Everyone wants to know what he's thinking."
"He brought so much to it by being raw. He's very honest and blunt with things, which I think is probably the most missed part of the show. People try and act they like don't like him, but they like him," Jennifer told MTV UK.
FYI: Jennifer is carrying the Jimmy Choo "Rosabel" bag.