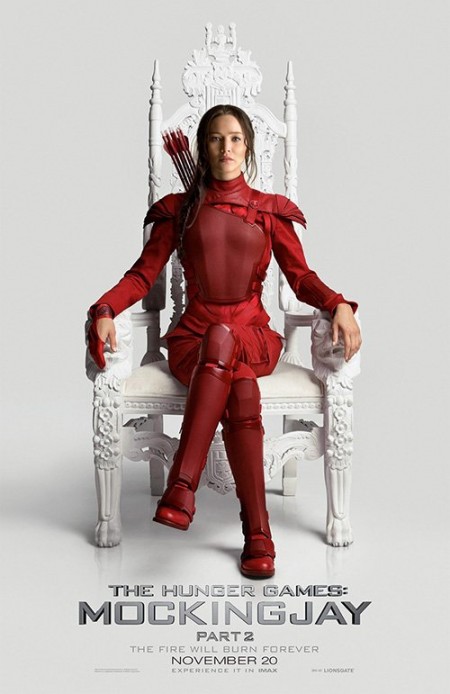 Always a fierce competitor, Jennifer Lawrence's Katniss Everdeen is featured in a new "Hunger Games: Mockingjay Part 2" poster, perched atop an ivory throne.
| 2015 |
Clad in a vermillion red suit with matching arrows, the "American Hustle" star flashes an intense expression across her face ahead of the November 20th theatrical release date.
Thus far, the "Hunger Games" franchise has grossed $2.23 billion at the global box office, and "Mockingjay Part 2" promises to be the biggest hit yet. Per the synopsis, "With the nation of Panem in a full scale war, Katniss confronts President Snow in the final showdown. Teamed with a group of her closest friends – including Gale, Finnick, and Peeta – Katniss goes off on a mission with the unit from District 13 as they risk their lives to stage an assassination attempt on President Snow who has become increasingly obsessed with destroying her. The mortal traps, enemies, and moral choices that await Katniss will challenge her more than any arena she faced in The Hunger Games."
Love this post?
Read also