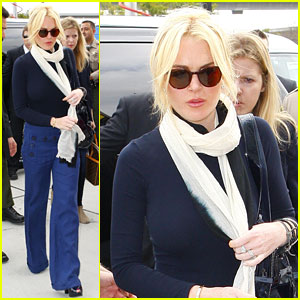 Lindsay Lohan arrives at the courthouse for her hearing on Friday (April 22) in Los Angeles.
| by Just | 2011 |

The 24-year-old actress was in court for the preliminary hearing for her necklace case, in which she hoped to have the charge reduced to a misdemeanor.
Prosecutor Danette Meyers insisted that Lindsay and her friend Patrick had a plan of distraction while in the store and that she only brought the necklace back when there was a search warrant, according to TMZ.
While the judge agrees with the prosecutor, Lindsay's lawyer Shawn Chapman Holley asked to set the matter for trial.
Judge Stephanie Sautner reduced the charge to a misdemeanor as there was the offense and Lindsay's record did not support a felony charge.