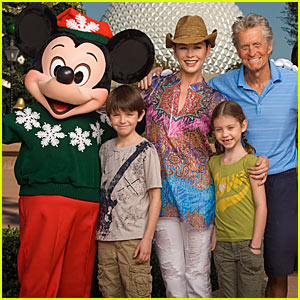 Michael Douglas and his beautiful wife Catherine Zeta-Jones take their kids — Dylan, 10, and Carys, 7 — to visit the Epcot theme park Christmas tree on Wednesday morning (November 24) in Lake Buena Vista, Fla.
| by Just | 2010 |
The couple, who rubbed shoulders with Mickey Mouse and Minnie Mouse, celebrated their 10th wedding anniversary on Nov. 18.
Michael recently finished his treatment for throat cancer, a grueling eight weeks of chemotherapy and radiation. So brave!