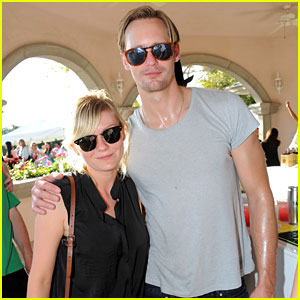 Alexander Skarsgard poses with his Melancholia co-star Kirsten Dunst at the Lacoste L!ve pool party during the final day of the Coachella Music Festival on Sunday (April 17) in Thermal, Calif.
| by Just | 2011 |

The 34-year-old Swedish actor attended the past two days of the music festival with his girlfriend Kate Bosworth, who wasn't able to make the last day due to work commitments.
During the pool party, Alex's arms were glistening with sweat and he kept having to lift his shirt to wipe the sweat of his face!
Also pictured inside: Malin Ackerman.