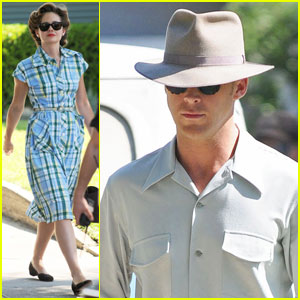 Ryan Gosling gets into character while shooting some more scenes for Gangster Squad on Tuesday (October 11) in Los Angeles.
| by Just | 2011 |
The 30-year-old actor was joined on set by co-star Mireille Enos, who worked with Brad Pitt on World War Z in August.
Ryan recently sat down with MTV's Josh Horowitz and explained why he hasn't been using his Twitter page.
"I don't want to just … tweet. Nobody cares … Should I just close it down?" he asked.
"There was a guy who was being me," he added. "But he was tweeting the worst stuff, like, 'Oh, tacos' … So I got my Twitter back, and I started tweeting. And everybody left my account because they were like, 'That guy was way funnier than you.'"
Love this post?
Read also