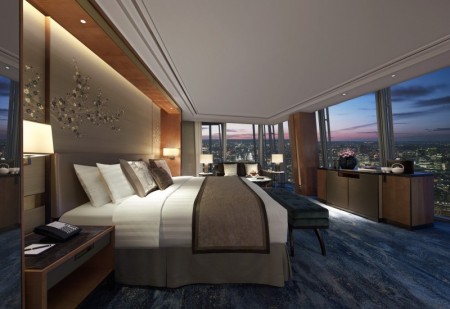 It seems like we've been buzzing about the opening of Shangri-La Hotel at the Shard, London's newest luxury hotel, for ages.
| by Pursuit|

(We sort of have – you may recall this post from Carrie, back in March, when they started taking reservations) But it's finally here. And, of course, we have pictures.
The hotel's opening ceremony began with the brand's traditional 'awakening of the lion' and a colorful dance procession, followed by a ribbon cutting by the Mayor of London, Boris Johnson. The hotel is the tallest building in Western Europe and London's first high-rise hotel. In addition to 360-degree views of London, the spire-shaped 1,004-foot-tall building on the South Bank of the River Thames is also an iconic new landmark of the city skyline.
The hotel's 202 guestrooms, which start at about $750 per night, are now open. Gong, the hotel's champagne and cocktail bar, opens May 19th.
"Today marks an important milestone in London's hotel landscape and the ongoing development of the South Bank Community and the borough of Southwark. We are thrilled to open our doors and be an integral part of this local community. We look forward to welcoming guests from all over the world and to delivering Shangri-La's legendary hospitality from the heart to each and every guest," said Darren Gearing, executive vice president and hotel general manager of Shangri-La Hotel, At The Shard, London.