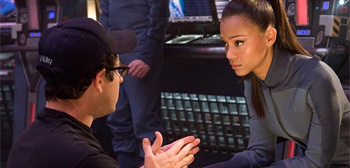 Apparently this little quote was first published last week, just before Christmas, and I'm not sure how we missed it.
| by Alex Billington | Dec. 09 |
But considering there is no other news worth reporting this week, and because Star Trek is one of favorite movies of this year, I thought I'd feature it today anyway. In an MTV article looking at actress Zoe Saldana's upcoming 2010 slate, they highlight a quote from her that mentions that the Star Trek sequel will be "going into pre-production around this time next year." That's not necessarily shocking or surprising, but it's good to hear that they're pushing to get started fairly soon, because I'm already anxious to see this.
"I spoke to J.J. and Bryan Burk, his producing partner at Bad Robot, and they are still in the middle of building the script with Alex Kurtzman and Bob Orci, and we'll probably be going into pre-production around this time next year."
The odd thing about this is that MTV doesn't mention when exactly they got this quote. So although I'm predicting (given that she has been doing lots of Avatar promotion recently) that it was earlier in December, I can't say for certain. The last we heard, back in November, J.J. Abrams was still unsure about directing the sequel without a finished script. And it sounds like Kurtzman and Orci, who wrote the first movie, are still working on that script. I've got my fingers crossed, hoping that Abrams will return, but I guess only time will tell. I'm just happy to see it progressing, as I'm excited for the continuing voyages of the Starship Enterprise.