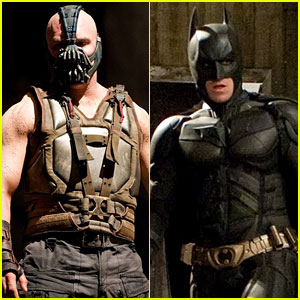 Check out Tom Hardy and Christian Bale in these newly released official images from their upcoming film The Dark Knight Rises!
| by Just | 2011 |
Tom, 34, and Christian, 37, star as the villainous Bane and Bruce Wayne/Batman, respectively, in the highly anticipated third installment of the Christopher Nolan film.
Earlier in the week, the trailer was released! Check it out in case you missed it.
The Dark Knight Rises, which also stars Anne Hathaway, Joseph Gordon-Levitt, Marion Cotillard, Michael Caine, Gary Oldman, and Morgan Freeman, is set to be released on July 20, 2012!