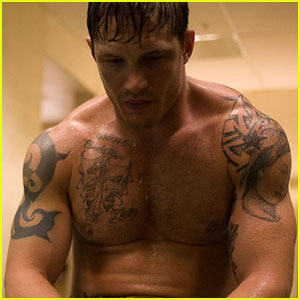 Tom Hardy shows off his bulging biceps in this still from his upcoming movie, Warrior.
| by Just | 2011 |
Synopsis for the action drama: "The youngest son (Hardy) of an alcoholic former boxer (Nick Nolte) returns home, where he's trained by his father for competition in a mixed martial arts tournament – a path that puts the fighter on a collision corner with his older brother (Joel Edgerton)."
The Gavin O'Connor-directed film, which also stars former House actress Jennifer Morrison, hits theaters Sept. 9.
Late last month, Tom and Joel attended a photo call for the film in Paris.