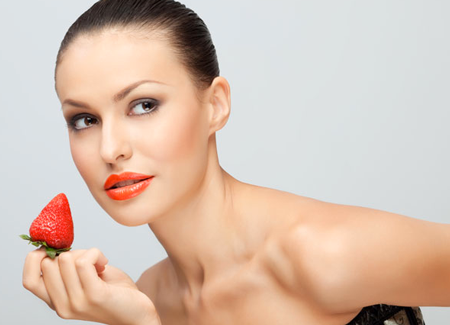 Can lemons, eggs and toothpaste really heal dry, damaged skin?
| by Rachel G.
Or are they just folk remedies? We asked experts for the facts behind these handy beauty treatments – and the best ways to get their benefits…
Does dabbing on toothpaste actually dry up a pimple? Will guzzling water hydrate skin? Can you really use an herbal laxative applied to the face really fight breakouts?
Some beauty "tricks" don't live up to their hype. But some folk remedies actually do.
"At-home remedies aren't the first line of defense when it comes to skincare, says Neal Schultz, M.D., author of It's Not Just About Wrinkles: A Park Avenue Dermatologist's Program for Beautiful Skin in Just Four Minutes a Day (Stewart, Tabori and Chang).
"But some are good when you're in a pinch," he says.
Here are 12 top "kitchen" cures for dry skin.
1. Drinking water keeps skin hydrated
Water isn't the complete cure for dry skin, but it helps.
Two-thirds of our bodies is made up of water, so our cells need it to renew and stay healthy, says dermatologist dermatologist Howard Sobel, M.D., clinical attending physician in dermatology and dermatologic surgery at Lenox Hill Hospital and Beth Israel Hospital in New York.
Drink 6-8 glasses of water per day to stay hydrated, suggests Schultz. But what matters more to your skin is the water you put on your body.
What to do: "Apply moisturizer within five minutes of getting out of the bath or shower," says Jenny Murase, M.D., an assistant clinical professor of dermatology at the University of California at San Francisco. That helps damp skin lock in moisture.
2. Omega-3 fatty acids restore dry skin
Omega-3 fatty acids may alleviate dry skin and can minimize symptoms of eczema (a skin condition that causes itchy, red rashes), says Sobel.
They aid the skin by boosting its lipid content and holding onto moisture. They also act as an anti-inflammatory and help cells fight free radical molecules, which contribute to aging.
What to do: Take 500-1,000 milligrams of purified omega-3 fish oil pills daily, advises Sobel.
Bonus: These supplements may also improve cardiovascular health by reducing inflammation. Omega-3s lower levels of triglycerides (fats in the blood that increase heart-disease risk) and blood pressure, as well as slow down plaque growth in arteries, according to the American Heart Association.
3. Olive oil is a good moisturizer
Olive oil, when eaten, improves heart health. But slathered on skin, "it helps lock in moisture," Schultz says.
What to do: Apply about 1 teaspoon of extra-virgin olive oil to skin and massage with your fingertips, focusing on extra-dry areas like elbows and knees. And dab some on lips to soften them, suggests Murase.
4. Lemon smoothes your face
You may have used lemons to lighten hair in the summer – the fruit's acids have bleaching properties, especially when combined with sunlight.
However, they also act as an exfoliant "helping break down the bonds that hold dead skin cells together," Sobel says. By removing these cells, skin will be noticeably smoother.
What to do: Cut a lemon in half and sprinkle a pinch of sugar on the pulp side for a sweet way to exfoliate. Rub the fruit on your face.
Because citrus fruits react with sunlight, it's best to try this treatment at night. That's because the acids on your face could trigger a reaction, such as blistering, notes Schultz.
5. Baking soda safely exfoliates skin
Although not as effective as a chemical exfoliator (such as glycolic or salicylic acid) in removing dead skin cells, baking soda is an inexpensive, gentle way to smooth your complexion, according to Schultz.
What to do: Make a paste with baking soda with vinegar and rub over your face with your fingertips. (Baking soda can irritate skin, and the vinegar dilutes it and acts as a cleanser.)
You can also add a teaspoon of baking soda to your facial cleanser. Combine well and massage gently onto your skin 2-3 times a week, suggests Sobel.
"If skin becomes red or irritated, use less baking soda. And don't forget to moisturize afterward," he says.
6. Oatmeal soothes itches
When skin becomes irritated from harsh soaps or skin treatments, its pH turns acidic, which causes itching and burning. Oatmeal helps restore normal pH, reducing inflammation, says Schultz.
It also softens dry skin by gently removing dead cells without irritating underlying skin layers, adds Sobel.
What to do: For a face mask, mix 1 cup regular oatmeal, with water until consistency becomes sticky. Then add a few drops of honey, which has antibacterial and skin-healing properties, according to Sobel.
(Keep reading for more about how honey softens skin.)
If your whole body is dry or itchy, soak in a warm tub filled with colloidal oatmeal, made from rolled oats ground into a fine powder, Sobel suggests. (Available from Aveeno and other drugstore brands.)
7. Toothpaste erases pimples
Can a teeth cleaner wipe out zits?
Yes, believe it or not. "The antibacterial function of fluoride, combined with the toothpaste's clay base, fights inflammation and helps dry up blemishes," Sobel says.
Brands containing hydrogen peroxide also minimize residual dark spots from acne blemishes.
What to do: Dab toothpaste directly on the pimple, but don't rub into the surrounding area.
"Spreading it on the skin outside the pimple causes irritation," Schultz says.
8. Honey softens skin
Honey also helps skin retain moisture, says Schultz.
Its natural antioxidant and anti-microbial properties helps skin rejuvenate, leaving it soft and supple, adds Sobel.
Another surprising beauty fix? Honey improves mild acne.
"Honey absorbs impurities from the pores on the skin, making it an ideal cleansing agent," Sobel says.
What to do: Combine 1 tablespoon honey with 1 teaspoon olive oil. Mix thoroughly. Apply to face for 20 minutes, then rinse with warm water.
"Finish with a splash of cold water to close pores and firm skin," Sobel suggests.
9. Herbal laxatives are good facials
Laxative flakes for your face? This beauty secret, which supposedly tightens pores and reduces breakouts, has been shared by friends and bloggers for years.
Swiss Kriss, for example, includes instructions for use as a laxative and facial. It contains licorice root, which is believed to have anti-inflammatory properties.
"Laxatives work [internally] by absorbing water. [On your face] the product may also absorb water from the skin, making it feel tighter," Schultz says.
What to do: If you're up for an experiment, place a couple scoopfuls of Swiss Kriss laxative flakes in a bowl of hot water. Lean into the steam with a towel over your head for five minutes.
10. Milk calms skin
"Milk is wonderfully soothing," especially for skin irritated by sunburn, poison ivy or bug bites, Schultz says. "Its protein helps bring the skin's pH back to normal."
What to do: Mix equal parts milk and water in a bowl. Drench an old cotton T-shirt or any soft cotton cloth (a washcloth's fibers can further irritate sensitive skin) in the mixture, ring it out halfway, and apply to sore skin.
11. Eggs improve damaged hair
Applying egg whites to hair strengthens it and prevents damage, according to Sobel.
What's more, egg yolks – which are rich in vitamin A, D, and E as well as several B vitamins – contain protein and fatty acids that help make hair shiny, he notes.
What to do: Mix 2 egg yolks with 3 teaspoons olive oil. Massage into hair and scalp and let it set for 20 minutes. Rinse off thoroughly.
"This treatment works best on dry to normal hair and promotes strong, beautiful hair and a healthy scalp," Sobel says.
Got split ends? Mix 1 teaspoon honey with 2 tablespoons olive oil and beat in 1 egg yolk. After massaging the mixture into your ends, wrap hair in a shower cap. Leave on for 30 minutes, then rinse thoroughly.
12. Avocado moisturizes skin
Avocados are full of monounsaturated fats, vitamins B and E as well as amino acids. These help hydrate skin, leaving it soft and smooth, according to Sobel.
What to do: Mix 2 ounces ripe avocado, 1 ounce orange juice, and 1 teaspoon honey by hand or a blender until smooth. Add more orange juice if mixture gets too thick.
Apply mask on face and neck (avoiding eyes), and leave on for about 30 minutes. Rinse with warm water.
Love this post?
Read also