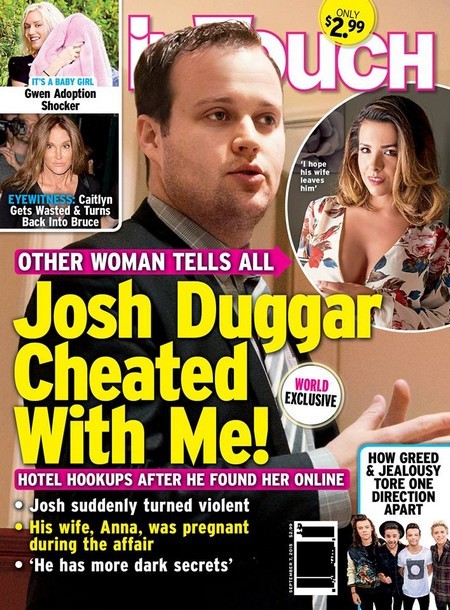 Josh Duggar of "19 Kids And Counting" fame is featured on the front cover of the latest edition of "In Touch Weekly".
| by Roberta Ferguson – SHY Magazine | 2015 |
In this issue, porn star Danica Dillon has come out swinging talking about their alleged paid hookup sessions.
According to Dillon, she was propositioned in a strip club by Duggar, who at first offered her $1,500 to have sex. She claimed that she was terrified by the experience and that Duggar was aggressive and wrapped his hands around her neck during their interaction. Not only that, but she also claimed that he shorted her $500.
Dillon revealed to the magazine, "He was manhandling me, basically tossing me around like I was a rag doll. It was very traumatic."
Afterward, she agreed to have sex with him again for the fully agreed upon price of $1,500. She said that he was less aggressive this time around.
Still, she thinks that after her story is made public, others will follow suit. She said, "I think that after I come out, there will probably be plenty more girls after me. I actually really hope that his wife leaves him and takes his children away from him and leaves him a lonely, bitter man. I don't think he deserves happiness."
She went on to say, "I do not see Josh as a good man in any way. I believe he has some really deep, dark hidden secrets that he needs to seek help for."
Also, she says that now that she has since learned of his activities with his sisters, she is absolutely disgusted. She added, "Now that I'm aware of his relations with his sisters, I feel slightly disgusting myself. I in no way, shape or form, condone incest – it's disgusting in every way."
Love this post?
Read also