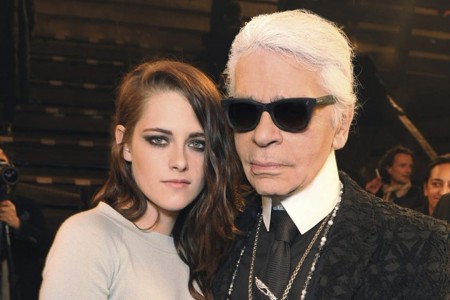 Geraldine Chaplin played the role of Gabrielle Chanel in Karl Lagerfeld's previous film..
| Style 2015 |
This time it is American actress Kristen Stewart, who will star in a film directed by designer and its creative director of Chanel. A regular in the campaigns for Chanel and also seen in front-row of its shows, the 25 year old is set to appear in a film being made for the French house's next Métiers d'Arts show, scheduled for Dec. 1 in Rome. Geraldine Chaplin also stars as middle age Chanel in this film along side the Twilight actress who portrays an actress slated to impersonate the designer as a young woman,
Based on intriguing storyline, it involves fictional, behind-the-scenes look at a yet-to-be-made biopic about founder Gabrielle Chanel. WWD also states that much of the movie takes place in the office of the would-be film's producer, and a corridor. Lagerfeld conceived the plot, dialogue, costumes and casting, also roping in Harper's Bazaar editor Laura Brown to portray an American journalist.
"They make so many movies about Chanel, why can't I make one?" says Karl, the director, who has wrapped the two-day shoot at Luc Besson's studio in Paris last month. Lagerfeld also said Stewart relished the role, and played it to the hilt. "She played it really, really mean," he said. "You only see her in tests and she's complaining about everything. She's mean with the director; mean with the producer."
Love this post?
Read also