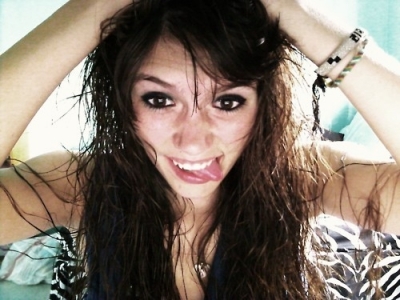 Fast Beauty Fixes-don't we all need them from time to time?
| by Air |
Iwill just be truthful and say that I feel like I need fast beauty fixes every single day! Over the years, I've come to realize that what you might think to be the worst beauty-related emergency ever can often be solved simply and quickly. So I've decided to make a list of the best and most used fast beauty fixes based on my own personal findings! I'm sure you will discover that these fast beauty fixes will work as great for you as they do for me. Read on for amazing tips!
1. Tired eyes
There's nothing I hate more than looking like I'm still asleep when I should be bright-eyed and bushy-tailed! Here's one of the fast beauty fixes I learned years ago to remedy that problem. Use a white eyeliner to line the inner rims of your eyes! It brings out the whites of your eyes and makes you look more awake! Stay away from dark shadows on these days, they will only counter-effect the white eyeliner trick.
2. Lackluster Skin
One of my guaranteed fast beauty fixes is for lackluster skin. All you need is illuminating face primer. Just a drop will have your skin glowing and dewy all over! Follow with your regular foundation and powder.
3. Dull Face
Nothing says tired and droopy like a dull face. Cheer it up with a little bit of highlighter! In all the right places, highlighter will have an instant warming and pretty effect! Your cheekbones, brow bone, temples and the inner corners of your eye are the perfect spots to apply a light dusting of shimmery highlight. Don't have any highlight on hand? Use a white or champagne eye shadow. Works every time!
4. Huge Zit
I utterly HATE waking up to a huge zit on my face! One of my most used fast beauty fixes over time for this one has become ice. Yes, you heard me right! Use ice on the pimple to reduce swelling and redness. DON'T PICK it or it will only get worse! Follow up with your favorite concealer and powder to set it.
5. Bad Breakouts
The one thing worse than a huge zit? A whole colony of them! For bad breakouts, my fast beauty fixes include witch hazel and green concealer. apply the witch hazel and let dry. Then dab on moderate amounts of green concealer. Green cancels out red, so you won't have a huge red patch on your face. Follow with your regular concealer and set with powder.
6. Horrible Hair Day
On days that you just want to shave your head and go bald, there is something you can do! Out of my box of fast beauty fixes comes this tip: wear a hat! It's the perfect time of year! Beanies, berets, tams-whatever your style go for it. If a hat is not an option, try a scarf. It will draw attention away from your hair-do, and give you something pretty and cheerful to admire!
7. Root Cover Up
I think we've all put off salon appointments from time to time until our roots were out of control! Here's the best of the fast beauty fixes for those days. 1. Create a deep side part where roots are usually less noticeable. 2. Spray your hairline and part with colored dry shampoo. 3. Tease your hair until it's very big, and the dark part of your hair will look more like a shadow.
8. Instant Pick-Me-Up
For days when you just feel "blah" and not very pretty, pull this card from the fast beauty fixes index. It's called blush! Applying a rosy pink blush to the apples of your cheek will brighten up your whole face and warm up your skin. Try it and love it!
9. Flat Hair
Flat hair has GOT to be my biggest beauty per peeve. I can't stand it! Here's my favorite of the fast beauty fixes for those days: Dry shampoo! It will give you an instant root lift. You can also try switching your part to the opposite side for instant volume.
10. Chipped Nails
What's worse than looking down and realizing you have horribly chipped nails and less than two minutes before walking out the door? NOTHING! Here's what I do: Keep a stash of instant press-on nails in darker colors. In 60-90 seconds, no one will ever know! Dark colors are the best because they are versatile, and if you are wearing, say, red polish, it will show up underneath a french mani or anything light.
These 10 fast beauty fixes are guaranteed to make sure an issue with your skin, hair, or face doesn't ruin your day! Now, keep in mind that all of these fast beauty fixes are only temporary, so they won't last forever. You need to make sure that you keep up with regular salon/dermatologist appointments in order to make sure that your skin and hair and nails stay gorgeous all the time. But for days when you just don't have time, these fast beauty fixes will get you through the day and no one will be any the wiser!