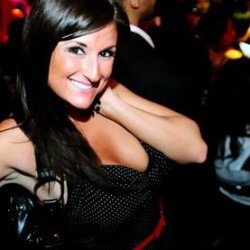 Gina Capobianco is a girl you want to get to know. A registered nurse who frequents the D.C. scene, we saw Gina out and about and had to say, "Hi!" By the way, I just want to make sure everyone is taking note of the really cool last name!
| by Jan F. Lee |
Born and raised in Baltimore, Gina's fondest childhood memories include eating crabs and trips to Ocean City with her family. "Baltimore is real big on seafood. My family used to get crabs, like, once a week. Those are my happiest memories. I love eating so all my best memories are probably based around food!" she said.
Gina is a registered nurse on the Oncology floor at the Greater Baltimore Medical Center. She has loved helping people since she was young and even used to volunteer at hospitals. She then went on to attend nursing school at Villa Julie College. In the near future, Gina plans to get her master's degree and become a nurse practitioner.
When she's not working, this social butterfly loves coming to D.C., enjoying the nightlife and dancing the night away with her friends. "I'm a dancer, so any place I can dance I love. I could dance for hours."
As a registered nurse, you work 12 hour shifts. Do you load up on energy drinks or coffee to make through?
If it's not the weekend or if I'm not out with my friends, I'm usually in bed really early. As long as I get enough sleep I'm good. I do love Chai lattes I get at work.
I love those, too!
I love Chai tea! I get addicted to those kinds of things, so I have to not go everyday or else I'll want one everyday if I do.
Do you have any summer plans?
I just got back from L.A. and I'll be in L.A. again Fourth of July week. Then, I am going to South Beach at the end of August. And hopefully in September, I'm going to be taking a travel job to California for about three months.
A travel job?
You can pick any location, it doesn't even have to be in the U.S., and they'll set you up in an apartment and pay for your cost of living and that way you can experience nursing in other areas.
That's awesome. What kind of music do you like?
I love Hip-Hop. I love R&B. I love Reggae. Biggie is my favorite. As long as I go to a place and they play Biggie, then I love it.
What's a current song that you love to hear in the club?
Right now, and everyone will make fun of me for it, but I love the Jeremih song, "Birthday Sex." It's not the best song, but I can move it to. Also, anything Lil' Wayne can get me going.
Do you have a favorite seafood restaurant in Baltimore?
Not really seafood. I love anything ethnic. Mezze, it's a Greek tapas restaurant, is my favorite place to eat right now.
In another life, what would your occupation be?
I love cooking and baking, so maybe I would own a little cupcake shop or something along those lines.
Sounds yummy. Thanks for being "SHY," Gina!