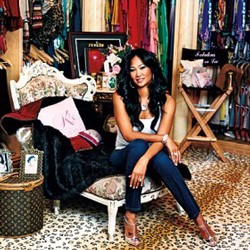 It's springtime. Everyone is breaking up with their boo-boos and searching for someone to be their summer love. To stand-out in the crowd, try on some bold fashion statements.
| by Jan F. Lee |
If you are locked down, ain't going nowhere because he put a ring on it, then try wearing these spring pieces to stop your significant other's straying eyes and keep you at center-of-attention status.
For the Ladies
In true Kimora Lee Simmons fashion, the jumpsuit is making a big comeback this season. Whether as full-length pants or hot, hot, hot pants, the jumpsuit is a good look. It's sexy and feminine, showcasing the curves of the body without showing too much skin. Add a hemp belt and pair of elevated heels to the outfit, then you're set. If you need to take baby steps with a new bold statement, try a new beauty element, like neon blue nails or a hot pink lip.
For the Guys
I have fallen in love with Chet of The Real World. He's personable and has a funky sense of style that I admire. With that said, I'm suggesting the guys take a note and get themselves a bright-colored bowtie a la Chester. Take it a step further and add on a vest. But not everyone is ready for the nerd chic takeover. If you need to take baby steps, put on a pair of bright sneakers, like neon Nike SB's or patent leather Alife's.