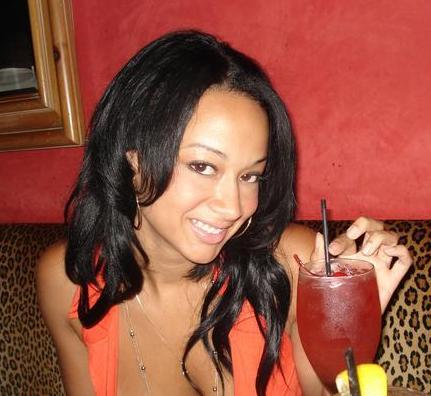 Draya of the VH1 reality series "Basketball Wives: LA" recently sat down for an interview with VIBE Vixen to discuss her business aspirations, her favorite Miami cast members, and how she is being portrayed on the show.
| by eurweb | 2011 |
Read an excerpt from the interview below:
You're obviously pegged as the girl who's going to shake up the show, but how do you want to portrayed on the show?
Hopefully, after editing and everything, it changes some people's opinions of me. I know what to expect, so I won't be shocked if a lot more people hate me than they already do. People don't always have the nicest things to say about me, so I'm used to it already. I want people to see what I do and how I live me life, just so they have a better understand of what it is that I do. A lot of people are confused about how I live my life and why I live my life a certain way and I'm able to travel so much. I want to put a light on what [my life] really is. It is not always a party. I don't look at a party as a party; I look at a party as a job, so [the show] will let people know what is really going on inside of my world.
Can you let people know what you do?
I do everything. Anything and everything I can get my hands on out here in LA, I'm into it. I'm doing my acting, my modeling and starting a business–a million things.
Now, make it clear — what's your connection to the basketball world?
Basically, now I'm friends with a bunch of wives and I dated a basketball player before. I mean, it was nothing currently or anything like that. It was a couple years ago. No big deal.
Who is your favorite wife or cast member [from Miami franchise]?
I bounce back and forth between Tami and Evelyn. I like different things in each of them, so I bounce back and forth between them.
Would you say you have the same feisty nature as well, or do you like them because that's them?
I like them because that's them, but I have similarities that I see in Evelyn. I am little bit more reserved, and I don't really like to snap on people and show that side. I don't think it is really necessary for me to get all crazy, but I can. I definitely have that inside of me. All I need the right person to bring it out.
Now that everyone is critiquing you and being on the show, are you regretful at all?
No, I'm having fun, and it's a learning experience for me.
Do you have any close friends in the industry or on the show?
Close friends is a touchy [thing] for me. As far as models go, I like to keep most of them as associates. Girls are designed to disappoint you, so I am very careful and selective of who I call my friends. I don't really want to shout anybody out as my friend, but I do have some. Everybody don't hate me [laughs]. I got a personality that if you know me, you will like me. It just comes off as a little bit cold at first, but eventually I can warm up to anybody if I want to.
There's been talk about the child endangerment arrest and your son. Will we be able to meet your son on the show?
You will definitely see me doing my family thing, my mom thing and my work thing. Anything that is me is going to be on there. Of course, my son is an important part of my life, so I wouldn't do anything that didn't involve him. I didn't leave anything uncovered.
What projects do you have in the works?
I am working on a bikini line right now for all types of girls. Its going to be affordable for everybody and stylish enough for everybody.
Love this post?
Read also