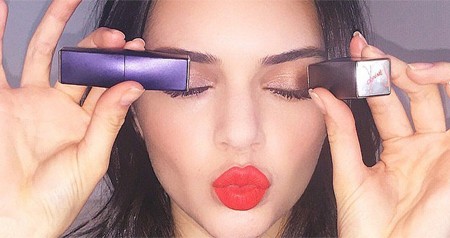 Finding the right makeup for Latina skin tones is never, ever easy!
| by Heather Jensen |
There are so many different tones that you Latina ladies have, it's hard to match up exactly what makeup can go with your beautiful skin tone. Well girls, I've got the low-down on all of the makeup for Latina skin tones that will make you look gorgeous and feel beautiful! So girls, you ready to dive right into my top 7 makeup tips for Latina skin tones?
1. Bold Lips
The very first makeup for Latina skin tones tip that we're going to talk about is bold lips! Now of course, this depends on if you have light skin, dark skin or even in the middle – but you want to find a color that is going to make your lips pop! Play around ladies, find out what bold, statement look fits with your skin tone! For me, it's bold and bright red, but it could be plum or deeper for you!
2. Gold Tones
Gold tones are another thing that look absolutely beautiful with most Latina skin tones, you just gotta find the right gold that works for you. Whether it is darker gold or just a soft, small bit of sheen to it. This makeup for Latina skin tones can be brushed across your eyelids, used along your cheekbones or even used under your eyes to really make your eyes pop out!
3. Peaches & Cream
If you are looking for a great blush, beaches and cream blushes will work great for your Latina skin tones! Just a little bit of peach blush added to the apples of your cheeks can make all of the difference in the world! You can actually use your blush as an eyeshadow too – which is pretty awesome!
4. Copper Colors
Ladies, did you know that copper colors are another makeup for Latina skin tones that a lot of women don't know about? I didn't know about the copper color until I did my research! Just a little copper along your cheeks or even on your eyes can really highlight your beauty and bring out your skin tone!
5. mascara
Oh yes ladies, Latina women are some of the only women out there that can go a little crazy with the mascara and it looks beautiful! Whether you are using black mascara or using colored, make sure that you coat up those lashes and really make them stand out ladies!
6. Light Bronzer
Whether or not you use bronzer really does depend on exactly what type of skin tone you have. If you have extremely light skin, you may be able to use bronzer just a little bit to give yourself a soft glow. If you have darker skin, you might not have to use bronzer, because you already have that 'just from the beach' feel about you!
7. Blend
Finally ladies, the last makeup for Latina skin tones tip that I'm going to give out is blending. This is important for everyone that uses makeup, but it is especially important for Latinas! Just make sure that you are blending your foundation in and ensuring that your blush looks beautiful and the powder stays on. This is so important ladies to make you look flawless!
Well girls, there you have it! My top 7 makeup for Latina skin tones! Do you ladies have any other tips you want to share? Give it a whirl in the comments section below!