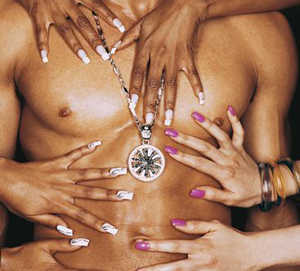 Are you bored of your nail polishes?
| By Air |
Ready for some new nail colors to try? I have recently become obsessed with painting my nails! When I was younger, even as a teen in high school, I was never into nail polish. I thought it was a waste of time because it just chipped off a few days later and I hated waiting for the polish to dry. But now that I'm older, I've realized how painting your nails can add depth and a certain "polish" to your outfit! So I've started painting my nails! But the problem is, I wanted some new, different nail colors to try. I was bored of the same old reds and purples and pinks. So here are some of the nail colors I've tried in my search and loved!
1. Silver
I never would have thought to try a silver nail polish on my nails but I absolutely loved it! It's very classy and of course, shiny! Go for a metallic finish. The only thing about silver nails is that you can only wear black or cool based outfits with them. The brown and gold based colors or anything with warmer tones completely clashes with silver. Silver is a great nail color to try for prom or a formal evening out!
2. Black
Black is another one of those colors I never would have thought to try on my nails. I always thought it would be too harsh and garish. However, I really liked it! It's not for everyone, but It's worth a try just to see. It's a very unforgiving color, nicks and smudges and chips show up very easily, but it's very versatile and you can wear it with almost anything! It also makes your hands appear smaller and more dainty and petite!
3. Bronze
Here is a great nail color to try especially with summer right around the corner! Bronze make your hands appear more tan and sophisticated. I've only tried bronze once, but I fell in love with it and I know I'll be wearing it all through the summer on my nails! I opted for a metallic finish, but I've seen some lovely shiny finishes without a metallic look. Experiment with what you love! Different occasions call for different nail colors!
4. Ice Blue
I'm actually currently wearing a deep, ice blue color on my nails. It's very chic and very versatile, which I love because I don't have to stick to a certain color palette for this week. If you've never tried a blue on your nails for fear that it wouldn't seem natural, let me encourage you to break that cycle! You don't have to reach for the royal blues immediately, a deep ice blue is very neutral and even goes on with more of a gray tint to it. Try it and see what you think!
5. Nude
Nude is probably the most beneficial and versatile nail color to try! It will match anything in your closet, it's appropriate for any occasion, it doesn't require much maintenance, and it gives the illusion of longer, cleaner fingers. I never cared much for pinks when it comes to nail colors but nude is a pale color that's a great alternative to pink! It's definitely a great nail color to try. The more coats you apply, the better it looks, especially if you have darker skin or a nice tan.
6. Gray
There's a specific trick when it comes to wearing gray on your nails. Gray is a great new nail color to try, especially if you love versatility. But you have to be careful of which shades you pick up. You don't want to appear washed out or dead! I've found that grays with a purple base tend to look the best. And always go for a shiny finish. Matte is just too blah.
7. Neon Pink
Not necessarily appropriate for any and every occasion, but certainly a fun shade for summer! You won't need much else in the way of accessories, as this color speaks for its self, and very loudly at that! Young and vibrant, electric pink is not for everyone, but don't knock it till you give this nail color a try. If you don't think you can handle a whole hand full of neon nails, try painting just the tips. It's a fresh take for spring!
Sometimes we just need to break out of our comfort zone and try something entirely new. Mixing it up and daring to be bold isn't easy but it's fun and it's new. These nail colors are perfect for summer so dash out and grab a few of these nail colors to try. You just might be surprised at how much you love it!