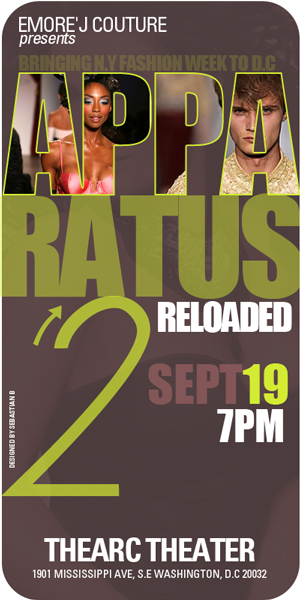 One of the most talented theatrical fashion designers in the Washington D.C area, Emore'J Couture presents on the runway, Apparatus II: The Rapture of "Nesir Slegna" Reloaded.
| by Jenifer Rivera – Examiner.com | 2010 |
Also appearing on the runways will be designs from New York Fashion Week participants, Dominique Auxilly and Jeantrix. Dominique Auxilly designs for celebs and young trendy women. Angela Simmons (daughter of Rev Run) sported one of Auxilly's dresses at a recent Pastry launch party. Nicki Minaj has also been spotted wearing her looks. Other local and talented designers like Viola Ricci and Japanese Sensation will be showcasing their designs.
Washington, D.C. has a great fashion scene, especially with the youth. Emore'J has teamed up with Metro Teen AIDS, to combine the great world of fashion and especially to raise HIV/AIDS awareness to the young generation of D.C. US Help Us is another HIV/AIDS organization that will will also be on site. A portion of the proceeds from this event will be donated to both organizations. Please visit www.metroteenaids.org and www.uhupil.org to learn more.
This event will be held on September 19, 2010 at 7:15pm, Thearc Theater, 1901 Mississippi Ave., Washington, D.C. 20019
Tickets available online at www.apparatus2eventbrite.com
Dissonance Dance Theater will be performing a breathtaking opening! This is a must see show.
Credits:Examiner.com