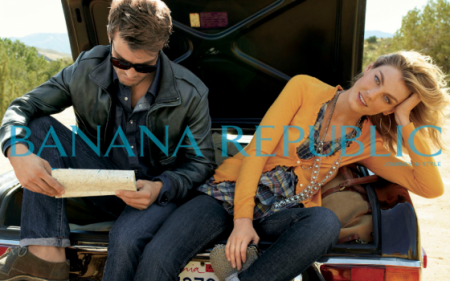 Banana Republic unveiled its Spring 2011 marketing campaign, "Journey in Style," inspired by the brand's heritage of discovery.
| by CHRISTOPHER | 2011 |

Drawing on the themes of exploration, travel and an aspirational American road trip, the campaign aims to engage customers through a variety of media, including a film trailer – a first for the brand – debuting in select movie theaters and online.
The campaign features Banana Republic's best of spring fashion shot against the stunning backdrop of the Vasquez Rocks, one of Southern California's most famous geologic wonders. Starring models Angela Lindvall and Jamie Dornan, the images reflect Banana Republic's effortlessly modern style and the vibrant energy of friends ready for wherever the journey may take them. Lori Goldstein styled the campaign shot by photographer Peggy Sirota.
Developed with AR NEW YORK, Banana Republic's advertising agency of record, the campaign will appear in March publications, supplemented by print, outdoor, online and direct mail. The campaign will debut in store windows beginning February 14.
"This campaign beautifully illustrates quintessential Banana Republic product that's emotional, modern, effortless and full of style," said Catherine Sadler, Chief Marketing Officer for Banana Republic. "The film trailer is an exciting first for the brand that will engage our customer and extend our reach through new media channels."
Leading up to awards season, Banana Republic will make its first-ever cinematic debut with a film trailer that brings the print campaign to life. The trailer will be available for viewing in select movie theaters around the U.S. on February 18. In addition, 30-second online pre-roll will debut February 17 on a multitude of different digital broadcasts, fashion sites, ad video networks as well as Banana Republic's web site www.bananarepublic.com. Direct mail and select outdoor units will include a QR code to give consumers another opportunity to interact with the video on their mobile devices. Banana Republic Facebook fans will have a chance to win their own Spring 2011 wardrobe by sharing and tweeting the video between February 15-18.