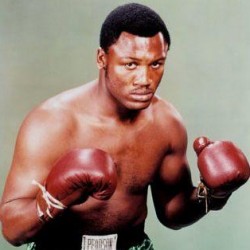 Former heavyweight boxing champion Joe Frazier died Monday, after he was diagnosed with liver cancer, his family said in a statement.
| by CNN | 2011 |
Frazier was 67.
"We The Family of … Smokin' Joe Frazier, regret to inform you of his passing," the statement said. "He transitioned from this life as 'One of God's Men,' on the eve of November 7, 2011 at his home in Philadelphia, Pennsylvania."
He fought fellow boxing legend Muhammad Ali three times, including the famous "Thrilla in Manila" fight in 1975.
"He's a true gentleman," personal and business manager Leslie Wolff said Saturday when confirming Frazier's illness. "Along with Muhammad Ali, (he is) one of the two most recognizable athletes in the world."
Fans and well-wishers were encouraged to post their thoughts and prayers on a Facebook page at joefrazierscorner.com.
"Thank you for being such a class act," read a Facebook post written before the champ's death. "I grew up watching boxing with my dad and you were at the top of our list of exceptional fighters who were also great people."
Frazier, nicknamed "Smokin' Joe," used his devastating left hook with impunity during his professional career, retiring in 1976 with a 32-4-1 record and staging one last comeback fight in 1981.
The son of a South Carolina sharecropper, Frazier boxed during the glory days of the heavyweight division, going up against greats George Foreman, Oscar Bonavena, Joe Bugner and Jimmy Ellis. He made his name by winning a gold medal for the United States at the 1964 Summer Games in Tokyo.
But it was his three much-hyped fights against Ali that helped seal his legend.
Frazier bested Ali at 1971's "Fight of the Century" at Madison Square Garden. In the 15th round, Frazier landed perhaps the most famous left hook in history, catching Ali on the jaw and dropping the former champ for a four-count, according to Frazier's bio at the International Boxing Hall of Fame. Frazier left the ring as the undisputed champ and handed Ali his first professional loss.
Ali won a 12-round decision in a January 1974 rematch, setting the stage for the classic "Thrilla in Manila" just outside the Philippine capital in 1975.
Ali took the early rounds, but Frazier rebounded before losing the last five rounds. By the end of the 14th, Frazier's eyes were nearly swollen shut, and his corner stopped the bout, according to the biography.
Later, Ali said, "It was the closest I've come to death."
Frazier was a two-time heavyweight champion for nearly three years until he lost in January 1973 to George Foreman.
He lived in Philadelphia, where he operated a boxing gym for many years.
"I don't mind working with the kids," Frazier told CNN's Don Lemon in 2009. "The kids is tomorrow. And if we don't do what we're supposed to do for them now, how are you going (to)expect them to carry on?"
Asked whether he was similar to Rocky Balboa, the title character in the "Rocky" series, Frazier replied, "Sure. I worked at the slaughterhouse. I'm the guy that ran in the streets of Philadelphia."