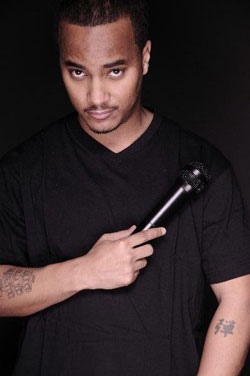 You hear his voice and the mix coming through your radio speakers on the daily. You now rock with him and his co-host Angie Ange when you tune into the Q & A Invasion on 93.9 WKYS Monday through Saturday from 6-10 pm.
| by Jan F. Lee | Shy M. | Nov. 09 |
The DMV has been bangin' to "Hot Boy" DJ Quicksilva's mixes ever since his radio career started (while he was still in high school) at Baltimore's now-defunct V103. Hailing from East Baltimore, Quicksilva was known for his crazy mixtapes and outgoing personality. The industry execs caught on and the rest is history.
Just a sampling of his resume: he's been on tour DJing with artists such as Lil' Mo, Missy Elliot, Fabolous and Jay-Z. He was named East Coast DJ of the Year at the 2006 MixShow Power Summit. He is an official DJ for Pepsi alongside other notable DJs like Clinton Sparks and Drama. He's been on your television set appearing on shows like 106th and Park and the Jimmy Kimmel Show; and it doesn't stop there. The humble Quicksilva is an avid speaker at area schools considered "troubled" and spends time with his family whenever he can. (He has a son, Antonio, and is getting married next week!)
We got a chance to speak with the very busy Quicksilva right before he was about to go on a television show taping.
What do you like better: Go-Go or Club?
I love both of them, but for different reasons. Of course, one side of me will say club because I grew up listening to club music. The thing I love about Go-Go is the live instruments. When I was young I used to play the drums, so I appreciate live instruments.
Do you play any other instruments?
Piano. I'm actually pretty good at both.
How did you start playing instruments?
Just like the average black person, my mom was the pianist at the church at the time so I learned to play piano from her. The drums just came naturally.
How did you start DJing?
I was probably about nine years old when I saw a movie called Beat Street. I remember the scene where the guy put the beat on, the music comes on the speakers and he starts saying, "It's working!" I was like, I don't know what that guy is, but I want to be one of those guys. [Laughs.] Some people might not be old enough to remember that scene. I remember asking my Dad when I was nine, I said when I turn 10 all I wanted for Christmas was a set of turntables. I didn't want toys, I didn't want any clothes, no video games. I just wanted a set of turntables and here I am today.
So you got the turntables?
I got them. But let me tell you, that's all I got. [Laughs]
Can you give me one memorable moment from your career?
The one that sticks out in my mind is when BET opened a Soundstage back in the day in Turks & Caicos and Bob Johnson, the owner of BET at the time, called my manager and said, "We want Quicksilva to be the DJ for the grand opening." It was, like, an honor almost. I was like, that's crazy. First of all, I can't even believe Bob Johnson knows who I am. And they were going to fly me out to Turks & Caicos to do the grand opening. I was like, wow, I made it. That's probably the most memorable moment for me.
What do you like most about being a DJ?
Off the radio aspect, what I love most is not even actually on the air. It's when I get to go to the schools and see the reaction that the young people give us. There's an art to going to a school. And the kids are like, "Oh, you're my idol" or "I look up to you." Or I'll speak at a career day and I'll see somebody's parent in passing and they'll say, "Oh, thank you for what you said at the school. It really touched my child's life." Stuff like that is what I like and enjoy a lot more than being out in the public eye.
If you want to hear more about Quick, follow him on Twitter @DJQuickSilva or friend Quick Quicksilva on Facebook.