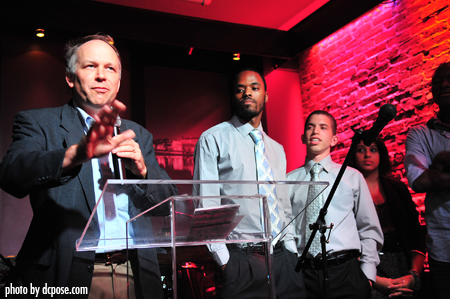 UrbanPromise Ambassador,and former Washington Redskins Clinton Portis hosted Professional Athletes and DC socialites as they assisted with the launch of the Ambassadors of Hope scholarship Campaign for Urban Promise in the nation's Capitol.
| by Shan L | 2011 |
Urban Promise Founder/President Bruce Main, along with Executive Director Jodina Hicks and former Washington Redskins Clinton Portis, welcomed
New Jersey Nets, Anthony Marrow and New Orleans Hornets, Pops Mensah-Bonsu on Tuesday, June 7th came together with area socialites to support unprivileged youth. The Ambassadors of Hope Campaign kick off event took place at BAR 7, located at 1015 1/2 7th Street, NW, WDC 20001. The event was a tremendous success, managing to raise over $50,000 for the campaign with generous sponsorships from William Teel 1 Source Consulting, Slow Bucks TV, and Rita's Water Ice.
Guests engaged in a silent auction that included a custom website from Zoot Soot Design, 1 Hour football toss with Oakland Raiders Quarterback, Jason Campbell, an autographed football from former Washington Redskins running back Clinton Portis, a signed football and jersey from Baltimore Ravens running back Ray Rice.
Also within the auction was an autographed jersey of Washington Wizards Nick Young, a 1 hour private yacht experience on Washington DC's premier business man William Teel's yacht,. The evening's donation raffle included Personal training and massage sessions from Fitness Foundation, and a spa massage from Hela Spa.
Throughout the evening, guests enjoyed an open bar and indulged in delicious hors d'oeuvres while mingling with Washingtonians.
Celebrity host with BET and WPGC [Big Tigger] provided great entertainment and live music that kept the event. Needless to say the event went off perfectly and a good time was enjoyed by all.
Guest, Arlene Wube, is a model example of UrbanPromise's successful formula. She now heads her very own marketing and events company with husband Taz Wube. UrbanPromise is proud to have helped Arlene achieve her goal, and becoming the prominent businesswomen she is today. Following in the ideals of UrbanPromise Arlene now sits on the Board of Trustees for the organization and contributes greatly to the program and helping underpriviledged youth.
UrbanPromise says it subscribes fully to the belief of breaking the cycle of poverty. The goal is to bring a lasting change to those who are under-resourced and in urban poor communities. Developing academically trained visionary leaders who are guided by the principles of Christian faith. Additionally, focusing heavily on under-resourced neighborhoods where the creative and quality dynamic of faith-based programs are absent. UrbanPromise commits itself to encourage children to fulfill their potential through Christianity. Graduates of the Fellows program have returned to Malawi and Honduras to initiate new ministries.
www.urbanpromiseusa.org