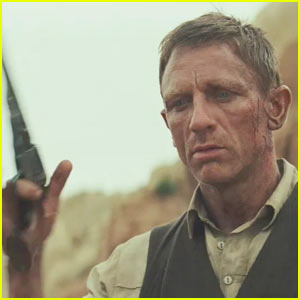 Check out this Cowboys & Aliens ad set to air during the Super Bowl!
| by Just| 2011 |
The film, out this summer, stars Daniel Craig and Harrison Ford in a Jon Favreau directed blockbuster set in the Old West.
Here's a quick rundown of the film: "1875. New Mexico Territory. A stranger (Craig) with no memory of his past stumbles into the hard desert town of Absolution. The only hint to his history is a mysterious shackle that encircles one wrist. What he discovers is that the people of Absolution don't welcome strangers, and nobody makes a move on its streets unless ordered to do so by the iron-fisted Colonel Dolarhyde (Ford). It's a town that lives in fear."
FYI: This spot will air during the Super Bowl today, so you can tune in to see it LIVE during the show.