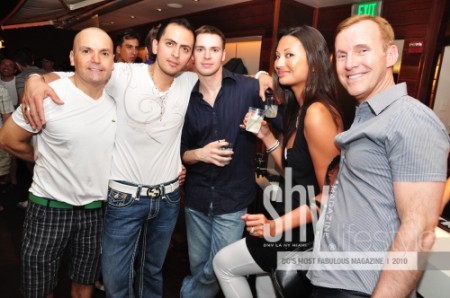 Here's to the Terrific Two's!!
| by Desiree Venn //2010//
In celebration of not only 2 years in publication but also being named The Official Media Partner for the 2010 America's Polo Cup, DC's MOST FABULOUS Magazine held an exclusive celebration on the rooftop of Donovan House hosted by the enigmatic Timur Tugberk. With a resort-like venue, perched high above the bustling city streets of our nation's capitol, party goers enjoyed summer's hottest runway trends in an über sexy fashion show produced by celebrity fashion stylist Jarmal Harris which featured designs by Renee France Design and 7 Deadly Sins.  
The brainchild of Howard Nelson Cromwell Jr, DCMF is a daring and trendsetting online publication dedicated to the professional city dweller. Complete with great music, fierce libations and über fabulous people the likes of: Lawrence O'neal, Ean Williams, Emorej C, Renee Hill-Christie, Amy McNish, Lynette Glam-Incorporated Evans and special guests Michaele & Tareq Salahi (Bravo's Real Housewives of DC & Founders of America's Polo Cup. It was a fabulous evening and we look forward to much more from DC's Most Fabulous Magazine.
Donovan Hotel, WDC, 06.01.10