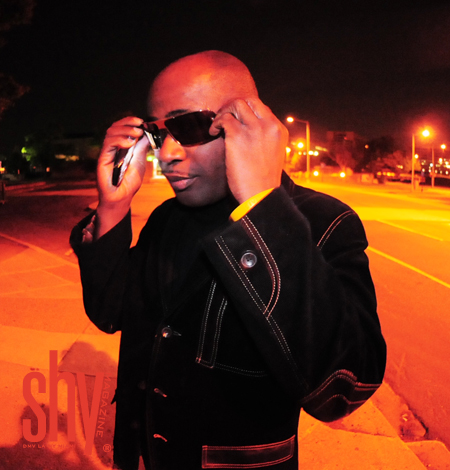 "The world has gone past the stage when people just belong in small groups of their own."
| by Danielle Joynes //2010//
The enigmatic DJ Chick, self proclaimed "World's No. 1 International DJ", sat down with Shy Magazine to share his philosophy on life, music, and the world as a whole. And, what he has to say and play is worth our undivided attention. Three main points that came across loud and clear were Chick's love for all music, his wish to diversify music, and his desire to bring focus on issues that plight the world over. Chick's repertoire is widespread and is best shown through the artists he has shared the stage with; to name a few would slight the DJ's impressive resume. From Buju Banton, Shabba Ranks, Beenie Man, Beres Hammond, DMX, TI, Lil Wayne, Chuck Brown, David Rudder, Fela, 2 Face, Awilo, Doug Suga, Koffie Olomide, Lucky Dube, Hugh Masakela, Shakira, Khaled, Mashal Montana, Sonny Okuson, and many more. On any given night you can find him traveling the world, but at this moment he can be found at Lux Lounge, DC on Friday nights. Where the air is thick with a blend of Soca, Calypso, Hip Hop, 9aija Sounds, CaboLove, Salsa, and Reggae.
The blends given on Friday nights at Lux are equal to the crowd Chick draws, well informed, well traveled party goers looking for a mix of genres that are sure to move. Chick confidently speaks, "My party is for those with an open mind who accept everyone's culture and music." His claims to be 'all inclusive' are true to form on Friday's when the "The World's No. 1 International DJ", takes the mic hyping the crowd to dizzying proportions, everyone is dancing even the usual bottle poppers are in rare form- swaying outside of their limited VIP space. When asked of Hip Hop's influence on international music you would be surprised at the response. Chick knows how the genre has influenced South African, Reggaeton and much of the French Carribean's crossover music. One spinoff that is proving to be largely popular is Nigerian music shown in the upcoming BET award nominations, P. Square, won out the votes over usual Carribbean forerunners. A main frustration of Chicks when asked his standpoint on American radioplay versus international, "If the media would help promote diversity through music the DJ's job wouldn't be so difficult."
DJ Chick's party's draw numbers in the thousands which for a DJ in America is impressive, after all European DJ's get stadiums it's enough to make us wonder in a city so diverse when we are going to recognize what party potential we are missing. What adds to DJ Chick's impresario is his confidence that he is the only one doing what he does, his confidence is assured by his stage presence and the list of those he has spun for such as Fela. So be on the lookout, if you are one of the lucky 15,000 contacts in DJ Chick's blackberry, his shows are always hype and at various events the proceeds go to causes in support of underprivileged people.