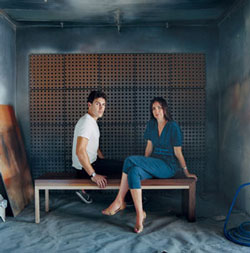 These days, most entrepreneurial Ivy Leaguers spend their early postcollege years developing Web-based social networks or iPhone applications. Charlie Ferrer (University of Pennsylvania '06) and Ana Meier (Harvard '04), however, opted to work on something more tangible.
| by Marshall Heyman |
Their furniture company, Meier/Ferrer, launches in October at New York's Paul Kohn Design with nine pieces, among them the bleached walnut–and–polished nickel Katherine vanity, designed with input from Meier's mother, and the lacquered walnut Rosemary console table, commissioned by Ferrer's.
"I kind of love the randomness of the endeavor," says Ferrer, 27, who serves as the partnership's business manager while Meier, 28, provides the creative talent. The idea was hatched three years ago when Meier, the daughter of architects Richard Meier and Katherine Gormley, was furnishing her then apartment—in a building designed by her dad in New York's West Village. Frustrated that she couldn't find pieces she wanted at Design Within Reach or Moss, she decided to develop her own. A few classes in furniture design helped get her started, as did advice from her parents.
Because of her lineage, "I tried to stay away from the design world," says Meier, who first worked for a documen tary filmmaker. "And architecture wasn't for me. But I think a lot of the modern furniture that's out there is [all] the same. My pieces are modern, not stark. They're comfortable."
The collection—rectilinear and minimalist wood pieces inspired by the work of Dutch designer Gerrit Rietveld—looks sophisticated and fresh. Achieving that simplicity, says Ferrer, has been difficult: "Here, any seam, any edge that isn't perfect is going to be evident."
Another challenge has been convincing friends used to shopping at Pottery Barn and Ikea to spring for a $4,500 glass-and-iron trapezoidal coffee table. "This isn't for the fresh-out-of-college kid," Ferrer explains of the new line. "These should be heirloom pieces." He chuckles. "In fact, I hope I can be in the position to be a qualified buyer someday soon too."