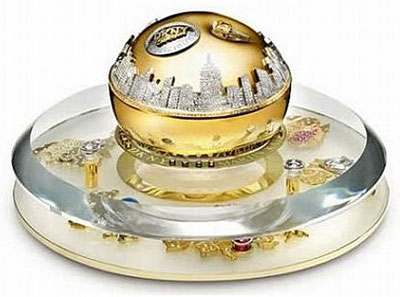 The first perfume bottle in the world bearing the price tag of one million dollars will soon sweep the scent markets.
| by Genuis| 2011 |
Its creators are Martin Katz and DKNY Delicious in conjunction with their DKNY Golden Delicious Eau de Parfum line, coming in three different sizes of 100ml, 50ml and 30ml.
A New York dedication is all over the bottle, from its apple shape to the Manhattan skyline laid out in a great number of gems including 2,700 round white diamonds and sapphires, that looks as unique as New York itself. The bottle has been made from polished 14-karat white and yellow gold.
The DKNY Million Dollar perfume will travel across the globe from London to Mexico and further on, and upon the completion of the tour will be offered for sale. The Action Against Hunger charity is reported to benefit from the proceeds.