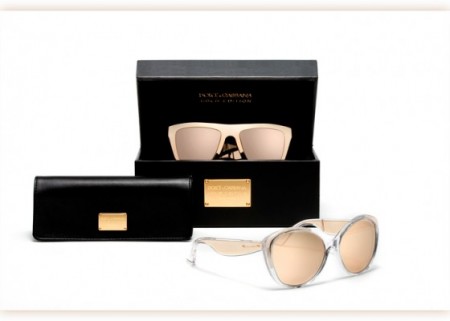 For SS12 Dolce&Gabbana launch a very special and precious limited edition sunglass collection to satisfy your most luxurious eyewear needs.
| By ALEX CARTER \ 2012 |
The Dolce&Gabbana Gold Edition is born of the love the designers have for gold: its precious, malleable, luxurious, steeped in crafts. The Pure Gold sunglasses are a vintage yet streamlined shape. The square frame is inspired by a gold ingot and provides a statement unparalleled by other sunglasses. The frame is gilded in 18K gold and is available in both white and yellow gold.
The Gold Sofia version has a lighter frame and is thoroughly inspired by vintage Fifties designs. The oversize transparent acetate butterfly frame is light, yet the 18K gold details render the glasses very special. The Sofia gold style is also available in both yellow and white.
The twenty-first century man also needs to have his uber luxurious needs looked after: so Dolce&Gabbana have come up with a precious and technically special design.
The modern yet classic aviator design, rigorously gilded in 18K gold with polarized crystal lenses is more special than it instantly looks. The glasses have been designed with a fold at the front where they can be folded to a 45-degree angle for practicality. They can be worn on the belt or attached to a braided leather cold (which comes with the sunglasses) and worn round the neck. The intriguing packaging, state of the art technology and precious materials make these glasses a true collector's item.