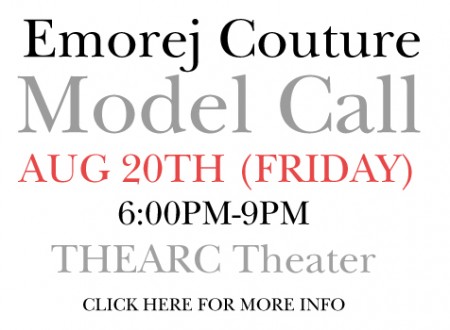 Due To High Demand, Phenomenal Reviews & Major Request APPARATUS II: The Rapture Of "Nesir Slegna'" Is Hosting a Model Call For Upcoming "SPECIAL EDITION" Fashion Show.
| by Emorej Couture | 2010 |
The Producers Of This Event are looking for Straight Runway Models Only.
This Fashion Show Production has set a High standard for all East Coast to West Coast Productions and what Excellence & Execution Is All About. The APPARATUS Projec…t Seeks Nothing But The Best!
**MODEL CALL INFO**
AUG 20TH (FRIDAY)
6:00PM-9PM (COMMUNITY ROOM)
Parking Is Available
Walking Distance From SOUTHERN AVE METRO STATION
(GREEN LINE,10 MINS.)
THEARC Theater
1901 Mississippi AVE S.E
Washington, D.C 20032
————————————————————————–
*REQUIREMENTS*
Male & Female
Ages:
Females: 16 & 30
Males: 18 & 35
Females 5′ 8 & Above
Males 5'9 & Above
All Nationalities Are Welcome
NO PLUS SIZE MODELS (INCLUDING SIZE 10 & ABOVE)
Models Must Have Proper Runway Experience
———————————————————————————
**UPON ARRIVAL**
Must Have A Self Photo (COMP CARD, HEAD SHOT, AMATEUR SHOTS ARE WELCOME)
Models Please Wear Proper Model Attire.
Females: White Tank Top & Blue Jeans (Skinny)
Males: White T Shirt/ Button Up & Blue Jeans (Form Fit/Skinny/straight leg)
Please Come With A Clean Face & No Jewelry….NO JEWELRY…See More