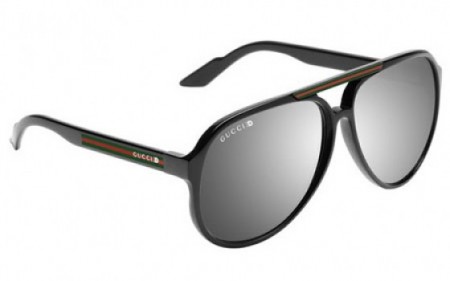 Gucci just sent us a photo of the new Gucci 3D Glasses, available at Gucci boutiques in December.
| by Pursuit | 2010 |
The retail cost of the Gucci 3D Glasses will be $225, and the company described them as "pilot-shaped plastic aviator in shiny black [which] features an eighties retro sensibility that was originally released earlier this year as part of the Gucci Eyeweb sunglass collection, a youth-oriented offering of styles designed by creative cirector Frida Giannini."
From Sep 21, 2009 @ 21:35: What they'll actually look like, we can't say. But considering pretty much every pair I've ever put on has sucked, we're be happy if the things just work right.
3D movies are supposed to make going to the cinema an exciting event again. Since upgrading a digital cinema to 3D is not that expensive they are mushrooming all over the place. Going to the movies is though also a social event and for lots of people wearing the normal realD 3D glasses is an awful experience as they feel they look stupid. – From i4u