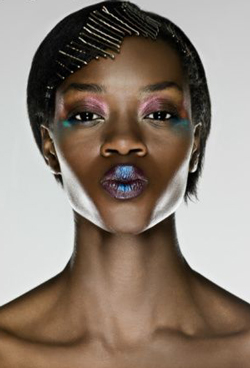 As women, the health and appearance of our hair is vitally important to us. When we are having a 'bad hair day', we tend to feel unattractive and discouraged.
| by Kenia Morales | Dec. 09 |
After all, our hair is the frame of our faces, and it is one of the first things that people notice about us. So it is only natural that we would like it looking it best.
Some women think that great hair is all about the cut, style, and hair products they use. But it's more than that. Whether your hair is straight, wavy, curly, or course – if you want radiant, shiny hair, you must care for it properly. This takes extra effort but, the results are more than worth it. Following are tips that will ensure a healthy sheen for any hair type.
damage to the structure of your hair. Since most women will continue using these treatments, it is important to minimize their use and use quality products.
Deep condition your hair once a week – at least every two weeks. To do this, shampoo hair as usual, rinse, apply your favorite conditioner, cover hair with a plastic cap and get under a bonnet or hard hat hair dryer. Stay there from 10-20 minutes. If you don't have a bonnet dryer you might want to use your blow-dryer to heat over the plastic cap. Finally, rinse off the conditioner. There are also a number of deep conditioning products available – ask your stylist for recommendations about the best product for your hair type.
Whether you style your hair at home or have it done professionally, I recommend you start using rollers more often, rather than drying it with a blower or other hot appliances (bonnet dryer heat is less damaging). Rollers will leave your hair with more body, but if you want a sleeker look, you may want to use the blow dryer afterwards for a few minutes to achieve the look you want. Your hair will look nice while minimizing the use of hot appliances. Note: heat rollers should also be avoided.
Do not wash your hair every day. Try to wait four days before your next wash, as frequent washings will strip away your hair's natural oils.
Use leave in hair treatments.
Use hair products that help protect it from the sun. The label should say UVA & UVB Protection or SPF.
Sleep with a satin or silk pillow case. You can find them in your local beauty shop or department store.
Eat properly and take multi-vitamins to ensure you are getting all the required nutrients to promote healthier hair and improved overall health.