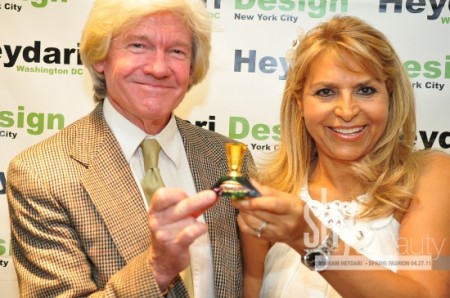 Boutique owner Mariam Heydari launched her first fragrance, "Heydari, by Kirth" at her boutiques, with an exclusive preview Wednesday, April 27th, 2011 at the Georgetown Inn.
| by Ean Williams | 2011 |

Fashion Designer Mariam Heydari, owner of Heydari and Helia's Boutiques in the Washington, D.C. area, recently announced that she has partnered with American portrait painter, John Court (also known professionally as John Kirthian) to launch her first fragrance, 'Heydari, by Kirth'. The fragrance is now available exclusively at her boutiques. She held an intimate gathering to debut the fragrance, on Wednesday, April 27th, 2011, at the Georgetown Inn.
This fragrance, inspired by an original painting by Court and the fashions of Heydari, will be available in limited quantities. Ms. Heydari states, "I fell in love with John's painting almost 20 years ago and am thrilled to be able to have created a fragrance that truly represents the beauty and intricacies of the portrait and which compliments my Heydari fashion line, and offer it exclusively to my customers."
A limited number of high quality reproductions of John Court's portrait image that inspired the 'Heydari, by Kirth' fragrance, signed and numbered as collector's items by the artist, will be available as well.
Following this initial offering, Court and Heydari plan to develop an extensive product offering to continue to grow the Kirth and Heydari brands.