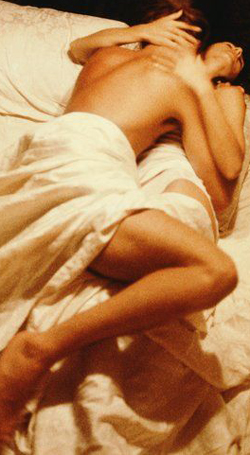 Some subjects tend not to be discussed during small talk or over the dinner table. Traditionally, our friends are the ones we turn to for sexual discussions, comparisons on exploits, and relationship woes.
| by Nicole Trask |
Giving head or "going down" is something most of us do between the sheets, but how often do we discuss and examine this highly personal experience out loud? And where do you go to get the real nitty gritty on sexual maneuvers?
Venus Envy – an education-oriented sex shop and book store in Halifax – aims to tackle this issue as well as many others with their ongoing series of workshops. Not too long ago, I arrived promptly and inquisitively for their workshop entitled "Going Down: A Guide to Fellatio" led by instructor Shannon Pringle and co-facilitator Jody Sawchyn.
A curious and perhaps slightly shy group of about six women gathered for the workshop. "I don't think there is anyone in this room tonight who doesn't know what fellatio is. I'm here to improve on what I already know and enhance my techniques," says one attendee.
The truly inspiring aspect of this workshop is that Shannon and Jody never fail to stress the importance of communication with your partner.
Shannon starts us off with a clinical break down of the male organ. Who knew that the damn thing was so complicated, anyway? I must admit that the terms corona, corpus spongiosum, and raphe are all new to me. I can't help but wonder if most men are familiar with all their inner workings. The frenulum, which is the small ridge of skin directly under the head is "a very sensitive area of skin that can be plucked gently and rubbed between fingers," according to Shannon. The testicles are also an incredibly sensitive area that can be highly responsive to stroking and pulling. Those who are truly adventurous may be enticed by the sucking of testicles, otherwise known as "teabagging".
Okay, all right, I'll admit it. There is a possibility I may have been blushing at this point. However, the truly inspiring aspect of this workshop is that Shannon and Jody never fail to stress the importance of communication with your partner. "As adults we often communicate very badly with one another in regards to sex," Shannon points out.
"Sometimes it's good to try discussing your needs outside of the bedroom. Go for a walk, bring up your interests over coffee… Never be afraid to ask for what you want and speak up about the things you can't stand." The workshop also emphasizes exciting ways to communicate such as erotic emails, lusty letters, and dirty talk. Shannon says that nonverbal communication in the bedroom like body language and eye contact can also be incredibly erotic to men who are, more often than not, highly visual creatures.
So, let's get back to the issue at hand (or at mouth, for that matter). What are some new ways to spice up traditional fellatio? There are several tips for making a memorable impact on your partner. Shannon notes that many men love to have women put on condoms on with their mouth (a tricky move that may take some practice). Anticipation is the overriding emotion men experience when receiving head, so that first touch is all-important. One technique described involves slowly drawing the tongue from the base of the penis to the tip in one fluid motion. Shannon also points out that "using the underside of the tongue can be very stimulating due to the different slightly rougher texture." As well, using both the hand and mouth can be a good way to extend the entire process of fellatio.
This evening is nothing if not informative, as well as interactive. Those who feel comfortable are encouraged to practice different hand strokes on dildos provided. Sex toys are openly discussed with an emphasis on lubrication and cock rings as enhancing tools. However, in the end the resounding theme of the workshop seems to be finding that elusive comfort level with your partner and the ability to trust one another. Despite the physical pleasures discussed by our instructors about "going down there", Jody emphasizes, "Good sex starts up here, (pointing to the brain)." Judging by the nodding and consenting murmurs in the audience, we are all in agreement with this statement. We were merely distracted for a moment.