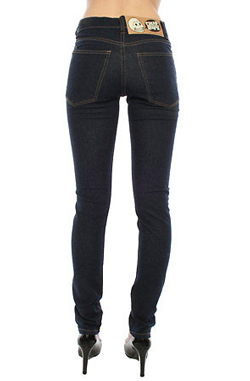 Wondering about how to wear jeans that look modern, flattering, and stylish? Check out these tips on how to navigate your way through some of the leading denim trends.
| by Johneen Manning | Nov. 09 |
Dangerous Skinny Jeans & Tapered Jeans
Tapered denim styles draw attention to and accentuate your bottom, stomach and hips, and have the tendency to leave your legs looking like spindly, shapeless sticks. If that wasn't enough, they also create an awkward juncture when meeting shoes.
Tapered jeans are most flattering when worn tucked in high boots, but many fashionistas can also be seen sporting skinny jeans with ballet flats or high heels, although for the average mortal woman this look is generally not recommended. Hopefully the evil stirrup pant is no longer being manufactured, but should you come across this vile pant-leg, promptly turn on your heel and run.
Tapered Leg Alternatives
More universally flattering styles are the straight, trouser, or boot-cut leg, which create longer, leaner silhouettes – and who doesn't want that?
High Rise Jeans
High rise jeans have been extremely fashionable the past few seasons, and this year is no exception. Besides its retro appeal, high rise denim is also popular because it is a stylish option which flatters most body types, so long as you don't confuse a hot '70s inspired modern cut with mom jeans.
Low-Rise Jeans
Low-rise can be sexy, but resist wearing extreme-low-rise jeans such that your underwear are exposed above the waistline of the pant. Nobody wants to see your thong; it is not a fashion statement. That goes for all you teens out there, too!
It is never flattering to have a muffin top (bulge of fleshy midriff) exposed above a low-rise pant. Pulling off the low-rise requires a significant amount of work: ab work.
Stretch Denim
Denim is blended with stretchy components such as spandex or lycra to facilitate freedom of movement in snugger styles. For a longer life in your wardrobe – and to avoid that stretched-out look which never rebounds – keep stretch denim out of the dryer and opt for hanging stretchy jeans to dry instead.
Stretch is not meant to be tested at its limit. Just because you can squeeze your body into a size doesn't mean it fits: can you walk around comfortably? Can you bend your knees? Can you breathe? If not – move on.
Trendy Denim Details
If you have a heavier bottom, avoid very large pockets or other design elements that draw more attention to that region.
Denim Sizing
There is no shame in wearing a size that fits. Avoid getting pegged into a certain 'size number'. Different designers use different standards for sizing: know your measurements and a general range, but try items on to be sure they fit properly and are cut to fit your particular shape. Alterations may be necessary in order to get the perfect fit.
Having said that, realize that jeans will likely stretch slightly, losing some of their sexy snug factor. Again, do not purchase a pair of jeans that feel uncomfortable in the store – they will remain uncomfortable, unworn, and consequently a depressing reminder of the money that would have been better spent elsewhere.
Be sure not to buy jeans that are too big or bulky, especially around the waist and bottom. They will never quite complete the hip or funky outfits you intended to create with them, and (unless you put on a few pounds) these jobbies will also remain unflattering.
Denim No-No's
Colored Jeans
As a general rule: avoid light-colored and colored denim. Darker shades of blue read more like a basic black, and are more versatile in that they may be more appropriate for casual work-wear or dressing up for a night out on the town. Extremely light blues tend to look less sophisticated. Colored or bleached denim (including white, black, red, green, and any other non-blue shade) was a bad mistake from the late 80s early 90s; don't re-live it.
Distressed Denim
There is something to be said for worn jeans that look faded or distressed because they have actually been worn.
Designers will often slightly distress or artificially age jeans to give them a more lived-in look, and when this is done in moderation, it usually looks great. However, jeans marked with distinctly distressed stripes and splotches (for example on the bottom, thighs, or hip-crease) belong in the same category as acid-wash jeans: save your money and move on.