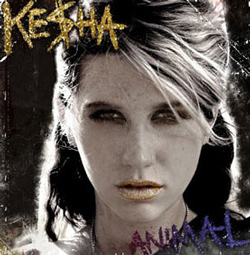 Check out the brand spankin' new artwork for Ke$ha's forthcoming album, Animal, out January 5, 2010.
| by Linda J. | Dec. 09 |
The 22-year-old "TiK ToK" singer, who describes her sound as "electro pop magic," just finished re-mastering her 13-song album last night in New York City. (She wrapped at 2:30AM after only sleeping three hours the night before and flying in from Europe.)
Ke$ha, who co-wrote every track on the album, is currently doing shows around the country and abroad. She will be performing at Z100's Jingle Ball concert next Friday (December 11) at Madison Square Garden. Ke$ha will also be performing a full set at the Jingle Ball pre-show at Hammerstein Ballroom earlier in the afternoon.